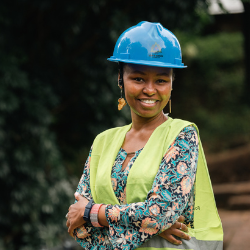 A Spiritual Emphasis Campaign (SEC) is a season for us at Karura Community Chapel where we focus on an area of spiritual growth together as Adults, Youth and Children. We do this twice a year in February and September. This February, the first SEC in 2022 will be based on the book Redefining Success According To Jesus by Dr Omar Djoeandy ( https://redefiningsuccess.com.au/ ).  We start from 6th February to 3rd April.
Book Summary:
I suffer from harmful definitions of success when I compare myself with others, and my achievements don't look as significant as theirs. It hurt deeply when my child was embarrassed about our house and thought of me as a bit of a failure because most of their friends lived in bigger and better homes. Fear of rejection or failure has paralysed me from fulfilling God's purpose.
We suffer harm when we define success according to our possessions (money, house, car, clothes, …) or job, achievements, popularity, looks, or outward symbols. We feel inadequate because someone else always has more and better. We, and our children, are vulnerable to the 'never enough syndrome' – comparing and feeling we don't measure up and always wanting more. Christians also suffer when we succumb to worldly success.
But we don't have to live this way!
When we connect with the real Jesus and receive His help, we can redefine success. We can experience the courage to overcome fears of rejection and failure; contentment as we place our identity and security in being God's children; purpose in being Kingdom-focused more than self-absorbed; and joy in giving generously more than spending on ourselves.
Below are points that we focus on during this time for this campaign to be effective. 
HEAR– SERVICES – During the SEC, each Sunday Worship Service (Online and In-Person 10 am and 11 am ) will be focused on an aspect of us Redefining Success. This will be the focus in Sung Worship, Service Leading and Sermons. This is where the Memory verse for the week will be shared and further emphasized in the CLG.  We also believe in the power of prayer as a Church and during the SEC, our regular Midweek Service (Wednesday's at 6:00 pm) will not be left behind. You can always get in touch with us about how the worship service was for you or even testimony on feedback@karuracc.or.ke.
READ– Individually, our growth in Christ is necessary through personal devoted time in reading the Bible and prayer. This is a point of focus during the SEC as we grow in becoming rooted and fruitful disciples. To assist us in doing this, we will use the Redefining Success Workbook specifically tailor-made to help each of us do this. Each copy retails at Ksh 600 per Workbook and can be delivered to you at a cost. If you would like to access your book you can do so by calling 0721990880 or info@karuracc.or.ke. This workbook will also come in handy as you meet at a Community Life Group. If you would like for someone to pray with you or someone to talk you can get in touch with us through our prayer line 0110007504.
DISCUSS– COMMUNITY LIFE GROUPS – We become rooted as Christians when we get closer together and a small group is the best space for this. CLG's meet once a week and this will be where you can have candid conversations as you grow in Christ, pray together and memorize scripture together. Each session will have a short video that will assist kick off discussions for the week and the Workbook will help in guiding the conversation. You will need to be a part of one to truly experience the campaign. If you are not already in one you can do so via contacting us at +254 748513012 or connect@karuracc.or.ke.
MEMORIZE– We will always have a memory verse for the week and further emphasized in the CLG. This is a way to ensure that we are all Becoming Disciples who are rooted and fruitful through God's word.
DO– We will also have real opportunities made available so that we can be fruitful as a community. This will be through a Missions Activity. The Missions Activity will be a space where CLG's can have the opportunity to serve together. This will be done by the CLG identifying a need and working to meet it together.
Now that you have the step by step details of the Spiritual Emphasis Campaign (SEC) 1.0 we cannot wait for you to join us during this wonderful period of  Redefining Success According to Jesus. . Join our Worship Services, Get the Workbook, be in a CLG,  MemorizeG, and prepare to Act in obedience to what you have learnt.